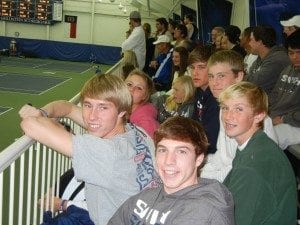 This past weekend Smith Stearns Tennis Academy took a large group of academy students to Duke University to watch two college tennis matches.

On Friday, the match was a battle between two top 20 men's teams. Duke (#10) led by Head Coach Ramsey Smith, son of Stan Smith, took down Illinois (#19) in a hard fought and well played match that resulted in a 7-0 victory. It was a great environment with outstanding tennis and lot's of crowd support!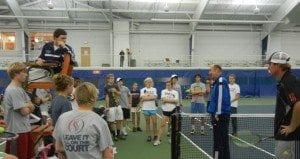 Saturday started with a two hour practice on the Duke Indoor Courts. All of the kids enjoyed playing at their facility and getting to experience what the environment is like at Duke. After practice, Assistant Men's Coach and former Smith Stearns Academy student, Jonathan Stokke took us on a campus tour. All of the kids thoroughly enjoyed seeing Duke's beautiful and historic campus.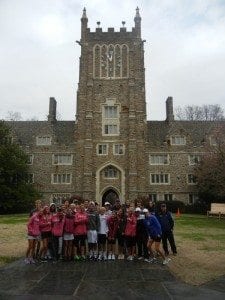 After the campus tour, the match between Duke women's tennis (#3) and Northwestern (#12) started with a hard fought doubles point in which Duke came out the victor. The singles was equally as competitive, but Duke was the stronger of opponents as they won the match by a 6-0 team score.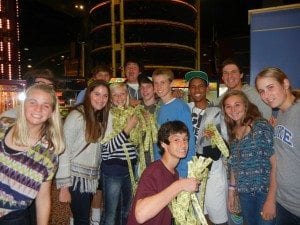 After lot's of tennis at the courts, the kids got to let loose at Frankie's Fun Park on Saturday night by playing laser tag and many of the other attractions and games at the arcade.

The trip was a great success and an important learning experience for all of our students to get to watch two top college tennis matches. For most, it was their first time watching college tennis. As our college placement programs is one of our top priorities at the academy, this trip helped inspire many of our students and give them goals for what they would like to achieve.
« Back to Academy News