Why choose Smith Stearns Tennis Academy?
Our academy has been unique since the very beginning. It was developed by a vision that Stan and Billy had to create an elite junior academy that catered to each student's individual needs while creating a family atmosphere that promoted team camaraderie. To this day, we are smaller in design and take an individualized approach to development, which gives each student the best possible chance to achieve their goals, whether that be to gain a college scholarship or become a professional player. We continue to pride ourselves on the success of our college placement program, which is a top priority at the academy.
What experience and ability level are needed to attend Smith Stearns?
We accept students of all ability levels from beginners to top international players. Our coaches are trained in the Smith Stearns approach and they are very experienced in training students of all levels. For enrollment into our Full Time Academy, we expect each student to be a tournament player.
When should I apply to be in the Full Time Academy?
What types of camps do you offer?
When should I register for summer camps?
Summer camps fill up extremely fast, so you are encouraged to register as soon as possible to guarantee acceptance in the weeks you wish to attend. The weeks that fill up the quickest are the last two weeks in June and the first three weeks in July. More information and dates on Summer camps can be found here.
When do your Summer Camps run?
More information and dates on Summer camps can be found here.
When does the Full Time Academy Program run?
More information and dates on our Full Time Academy can be found here.
Do you offer private lessons?
Private lessons are available for our full-time students and guests and can be scheduled through the Smith Stearns Office. As certain coaches are in high demand, it is encouraged that you put in your request for lessons in advance to ensure availability. Lesson schedules are released the Friday before the upcoming week. More info on our private lessons can be found here or by calling us at (843) 363-4789
Do you provide housing?
Yes, we provide a boarding and non-boarding program for all students in our Full Time Academy and all of our Camps. You can find more info here.
Are discounts or specials available?
Various specials and promotions are run throughout the year for our guest camp programs, including multi-week discounts.  Please visit our specials page for current offers.
What forms do I need to complete the admissions process?
Please refer to our admissions page here.
Do all students, regardless of age, participate in the strength training program?
No, the strength training program is only recommended for students ages 13 and up. Younger students can participate in resistance training using their own body weight as well as various other exercises for injury prevention.
When do you play matches?
Matches are incorporated into the academy, as they are important in the overall success of our students. In our Full Time Academy, we have designated match days each week where students will play sets and matches against other students. During, the summer camps, matches are rotated amongst students through out the week. There is also a strong focus on strategy and point play which is done on a daily basis.
When are your camp dates?
We have camps 50 weeks a year, only excluding the two weeks for Holiday Break.
When should I drop my student off at summer camp?
For our boarding students, we recommend checking in Sunday afternoon at our housing located in Morgan Court. You will be provided with which house your child will be staying in prior to your arrival. For students flying in, please send us your flight itinerary in advance so we can coordinate an airport pickup.
For our day students, we recommend dropping your student off fifteen minutes prior to each academy session. The start of academy and the group warmup is held on courts 4 & 5 so please meet there.
At what age can my child join the academy?
Our Future Stars Academy accommodates students ages 4-10 using the new 10 and under Tennis concept developed by the United States Tennis Association, teaching younger students the basic fundamentals of tennis using smaller sized courts and slower balls that help encourage better overall development. Once students are ready to use a full size court, they are encouraged to move up into our Full Time Academy whether that be age 7 or age 10. With that being said, transition into our Full Time Academy or any of our Academy Camps (including Summer Camps) is based more on development than on age.
What happens in inclement weather?
We're fortunate to live in a sub-tropical climate that when rain does come it is usually for short periods and has a minimal effect on our training times. Few sessions per year are actually rained out completely. During rainy weather our students will go to our Sports Performance Center and do a combination of educational tennis workshops and physical fitness exercises.
Please note: No refunds are given for suspension of on-court play due to rain. Our gym workouts and fitness are a part of the Smith Stearns full tennis program.
Where is the academy located?
Smith Stearns Tennis Academy is located within the world famous Sea Pines Resort on Hilton Head Island, South Carolina.
The largest barrier island off the Atlantic coast between Long Island and the Bahamas, Hilton Head Island is located 40 miles north of Savannah, GA, and 90 miles south of Charleston, SC.
The Island lies on the Intracoastal Waterway and encompasses 42 square miles of semi- tropical, Lowcountry geography, including unspoiled sea marshes, creeks and lagoons, heavily wooded forests of tall pines, palmettos, magnolias and live oaks, and 12 miles of broad Atlantic beach.  For directions, go here.
What is the weather like in Hilton Head?
Hilton Head Island features a balmy, subtropical climate year round and is ideal for those looking to soak up the sunshine and play in an environment conducive to tennis training.
Rain delays: When rain does occur, it's usually for short periods of time and has a minimal effect on our training schedule. During such rainy weather, our students train at our Smith Stearns Sports Performance Center and participate in a combination of educational tennis workshops and physical fitness exercises. No refunds are given for suspension of on-court play due to rain. Our gym workouts and fitness are a part of the Smith Stearns full tennis program.
Hilton Head Island Weather – Average low and high temperatures Fahrenheit/Celsius: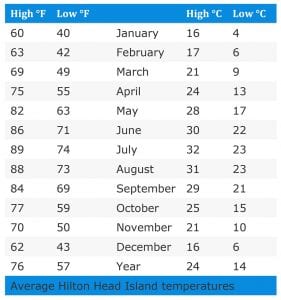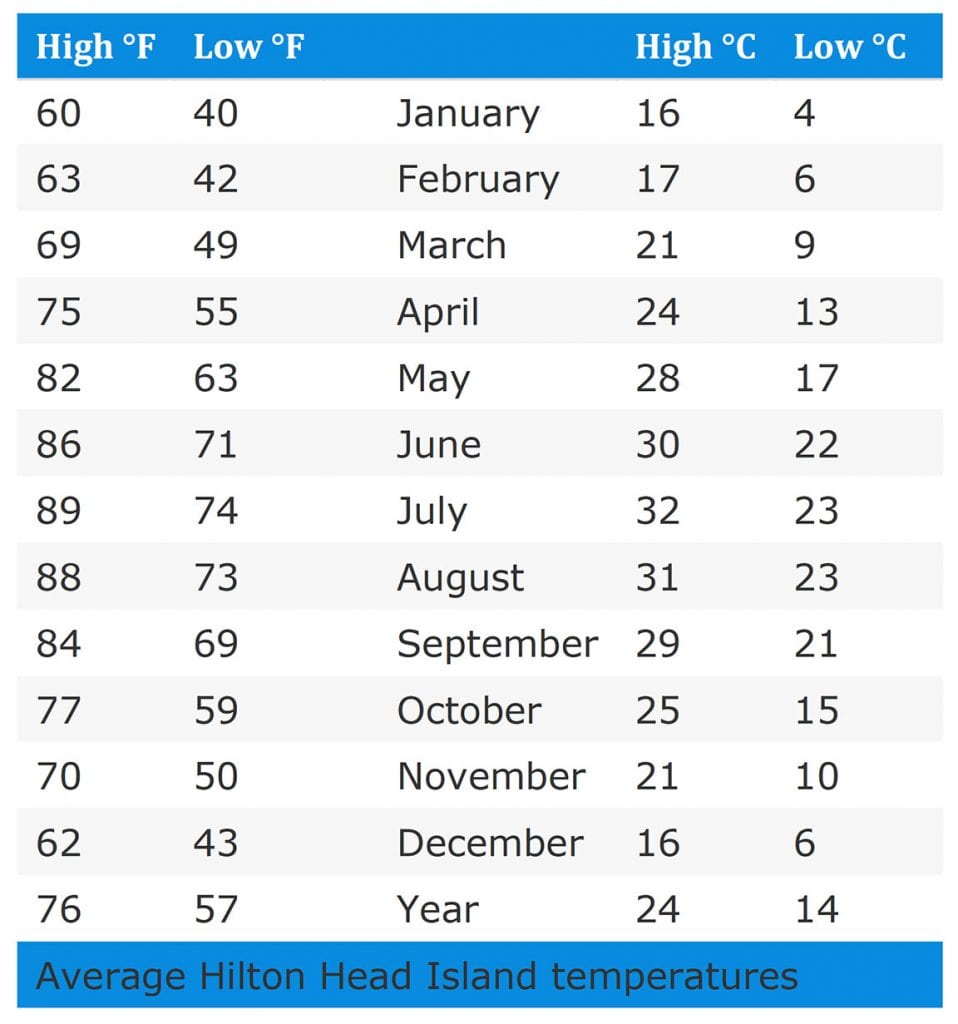 What should I bring?
Suggested Items to Bring
Rule of Thumb: Pack as you would to stay in a hotel. Although your child will be here for a while, be sure not to overpack. Space is available for each child and we encourage them to be mindful that others will want ample room for their belongings as well.
What to Bring
Please label all of your personal items.
Toiletries
Sunscreen
Water Jug
Tennis Attire (t-shirts ok)
Tennis Shoes
Tennis Equipment
Casual Clothes
Bug Spray
Beach Towel
Swimsuit
What Not to Bring
We would recommend not sending cash. What works best are the prepaid DEBIT VISA-type cards available at most grocery stores. They can purchase merchandise and most are reloadable.
Bath Towels
Linens
- full time students may wish to bring their own bed set to customize their room.
Pillows, unless you have a preferred one
Snacks (Available in housing)
Drinks (Available in housing)
Jewelry or other valuables
Optional
Laptop computer – Wireless internet is available.