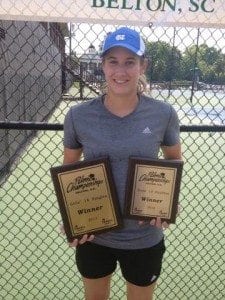 Hayley Carter once again led the way this past week at the Palmetto Championships (SC State Closed) that was held May 24-28, in Belton, South Carolina capturing her 15th and 16th titles respectively. With those wins she goes down in history as one of the the best players to play South Carolina tennis, breaking the record by winning the most SC State Championships. She won the girls 18 and under singles championship by defeating Ansley Speaks, 6-0,6-0. For the doubles championship, Carter partnered with Speaks and defeated Olivia Lucas and Rachel McNeely 8-0.





Carter was not alone in her dominance as academy students won a total of 7 Palmetto Championships while also having a significant number of top 8 finishes.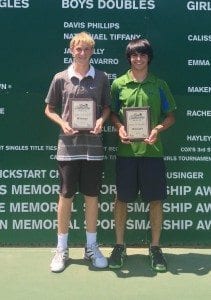 Robert Loeb
won the boys 16 and under singles title defeating fellow academy student
Kyle Barr
in the finals. Loeb and Barr also teamed up to win the doubles championship.
Ali DeSpain
dominated the girls 14 and under division winning both the singles and doubles titles.
The girls 16 and under division was loaded with Smith Stearns players as 6 out of the 8 quarterfinalist were academy students.  
Natalie Kitchen
was a finalist in the singles and doubles championship.
Cameron Kriscunas
won the doubles title with partner McKenna Jones defeating fellow academy students Kitchen and
Sydnee Wheeler
in the finals. Kriscunas and
Ellie Czura
placed in the top 4 of the singles and,
Mary Hampton McNeal
and Wheeler placed in the top 8.
As an unseeded player,
Matt Kandel
made it all the way to the semifinals of the boys 12 and under division.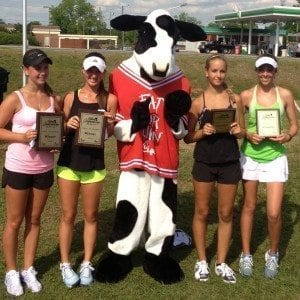 Other top 8 finishes include
Kelly Mengel
and
Kate Christensen
in the girls 18's and
Catie Meighan
and
Elle Christensen
in the girls 14's.
All top 8 finishers secure an automatic spot to play in the Southern Closed Championship which will be held at various sites around the section from June 15-22.
Congratulations to all of our Smith Stearns students who competed this week at the Palmetto Championships!
Smith Stearns Participants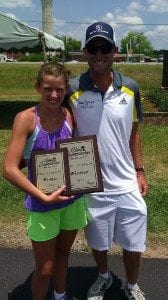 Connor Barr – B14
 
Kyle Barr – B16
 
Audrey Bennett – G16
 
Allie Burak – G18
 
Hayley Carter – G18

Elle Christensen – G14
 
Kate Christensen – G18
 
Julie Clark – G18
 
Ellie Czura – G16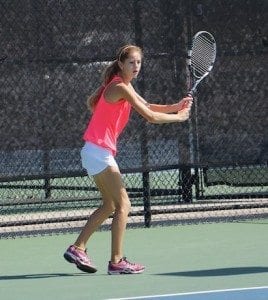 Madison Daniel – G14
 
McKenzie Daniel – G12
 
Ali DeSpain – G14
 
Matt Kandel – G12
 
Jack Kelly – B14
 
Natalie Kitchen – G16
 
Cameron Kriscunas – G16
 
Robert Loeb – B16
 
Mary Hampton McNeal – G16
 
Catie Meighan – G14
 
Kelly Mengel – G18
 
Shannon O'Brien – G16
 
Sydnee Wheeler – G16
 
Elizabeth Williams – G16
« Back to Academy News