Smith-Stearns Tennis Academy student, Vikash Singh, made history at this year's Metropolia Orange Bowl and Eddie Herr–the two most prestigious 16 & under tournaments in the world.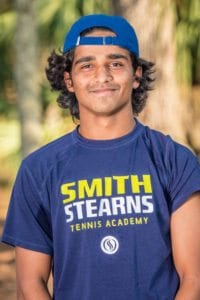 Vikash Singh has spent the last two years of his life residing on Hilton Head Island training at Smith Stearns Tennis Academy and studying at Heritage Academy where he is a junior with a 4.7 GPA. Hailing from Kolkata, India the 16-year old has gone over a year without seeing his family, one of the many sacrifices he has made pursuing his dream of assuming a place among the world's most elite tennis players.

With the 2016 season coming to close, Singh set his sights on the two biggest prizes in 16 & under tennis in the entire world–the Metropolia Orange Bowl International Tennis Championships hosted in Plantation, Florida and the Eddie Herr International Junior Championships hosted in Bradenton, Florida. Raising a trophy in the 16 & under division at these events means following in the footsteps of past champions Bjorn Borg, Mats Wilander, Ivan Lendl, Stefan Edberg, Jim Courier, and Andy Roddick.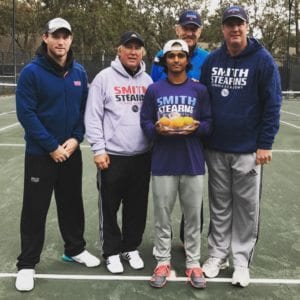 At Eddie Herr on the hard courts of the IMG Tennis Academy just outside Tampa, Singh made a tremendous run to both the semi-finals of singles and the finals of doubles alongside partner Cleeve Harper, who also trains at Smith Stearns Tennis Academy and is a junior at Hilton Head Preparatory School. Seeded fifth, his singles run saw him defeat three top American juniors and a top Canadian junior before dropping his semi-final match 6-2, 6-4 to third seeded Jake Hersey of Great Britain. Perhaps the tougher loss of Singh's week at Eddie Herr was dropping a closely contested doubles final alongside his partner and good friend Harper as the two fell 6-2, 3-6, 10-7, losing in a super tiebreaker which is played in lieu of a full third set in international doubles events.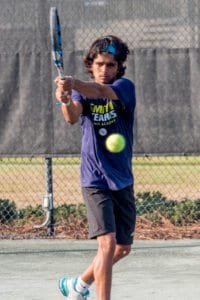 The young Indian was then given one day off to make the journey to the other coast of Florida and prepare for the most prestigious 16 & under junior tournament in the world, the Orange Bowl. Seeded tenth, the junior had little time to prepare for the surface change to the har-tru clay courts used at the Frank Veltri Tennis Center just outside Fort Lauderdale. Singh paired up with rising young American, Will Baird, to reach the semi-finals of the doubles before dropping a 6-4, 6-2 decision to the third seeded team of Alshon and Kozlov, two top Americans from Florida. Surely worn down from long runs in both the singles and doubles events at Eddie Herr and fighting windy conditions throughout the week, the 16-year old battled thru five wins in the singles draw, three of them in grueling three set fashion, to make the finals defeating several top American and European players. Singh's efforts put him on the cusp of raising the same trophy traditionally filled with Florida oranges that so many great champions had won. In the final against Steven Sun of New York, Singh found himself in a three set battle before eventually falling 3-6, 7-5, 6-1.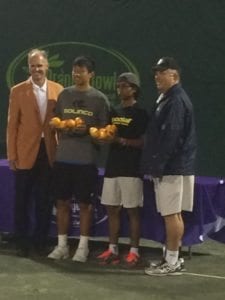 Commenting on Vikash Singh's results, Smith Stearns Tennis Academy Director and former Orange Bowl champion BJ Stearns said "while coming up short on claiming a championship trophy, Vikash proved he is in the conversation as one of the best 16 & under players in world right now making at least the final four of both the singles and doubles events at the two biggest tournaments of the year in his agegroup." Stearns went on to add "we are very proud of Vikash for all that he has achieved. He is continually one of our hardest working and dedicated players and that really shows in his results. He has a very bright tennis career ahead of him, as this is only the start."
« Back to Academy News