Senior Spotlight – Sanjana Tallamraju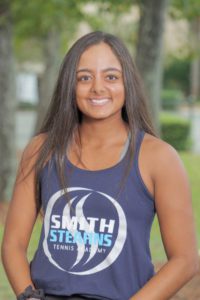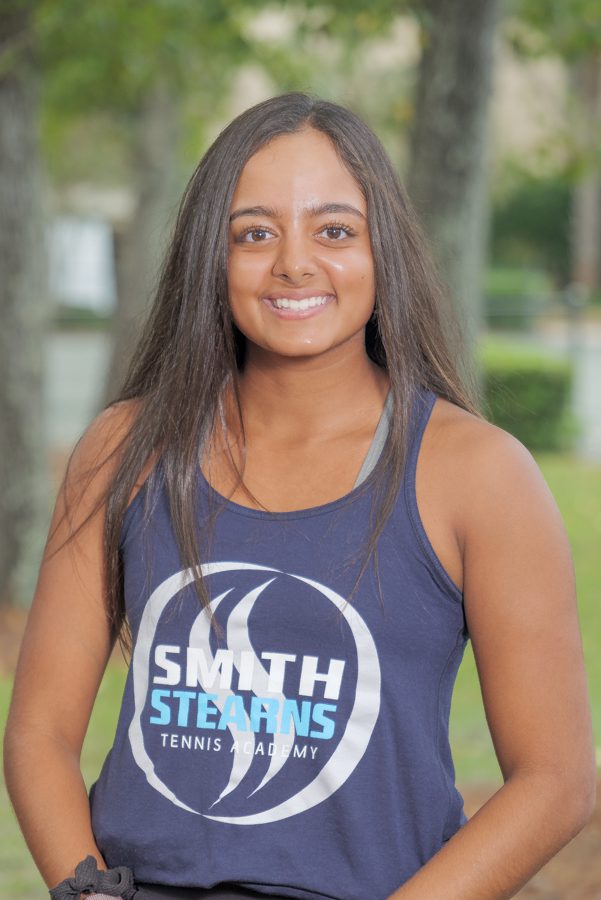 Name: Sanjana Tallamraju (Sanj)
Age: 17
Birthday: December 10
Hometown: Munster, Indiana
High School: Hilton Head Preparatory
College Commitment: University of Toledo
College Mascot: Rockets
Collegiate Conference: MAC Conference
Tall, athletic, and statuesque, Sanjana Tallamraju, is a formidable opponent on any tennis court. As the top ranked recruit ever to be named to the University of Toledo women's tennis squad, Sanjana has much to be proud of from her junior career. Whether playing singles or doubles, Sanjana masterfully wields a powerful, aggressive leftie game, with relentless courage and determination. It will be exciting to watch Sanjana as she transitions from her senior year at Smith Stearns to becoming a UT Rocket. "I'm absolutely thrilled to have Sanjana join our Rocket family," UT Head Coach Tracy Mauntler said. "She's an extremely talented lefty who has so many tools. She will have an immediate impact and it will be exciting to see how she contributes to the team's success."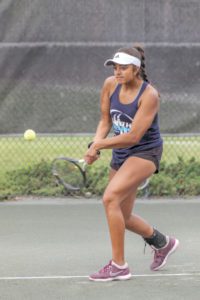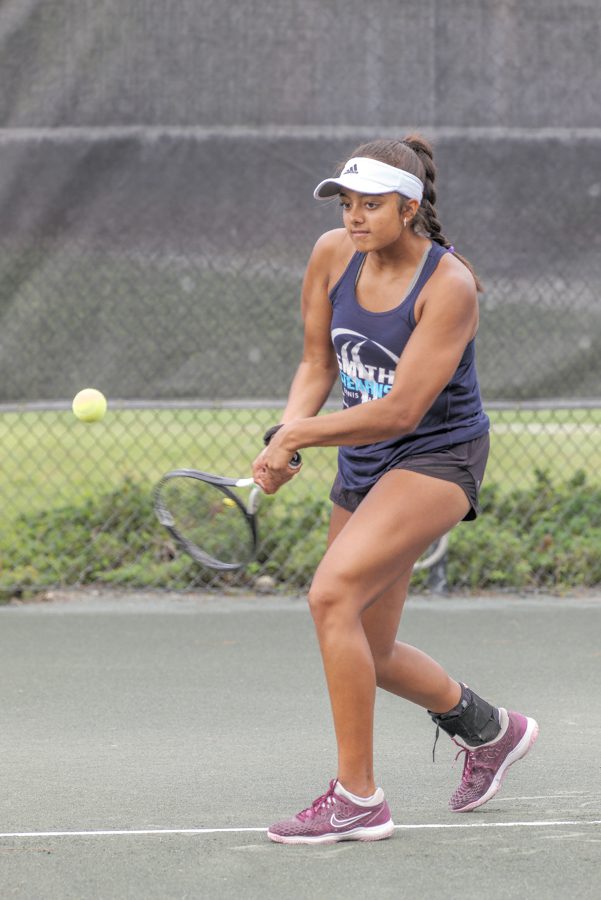 "Sanjana is a young woman who's been such a pleasure to have at the Academy," said Smith Stearns Academy Director, BJ Stearns. "We're so proud of Sanj's achievements and believe she will do even greater things at UT. In addition, she's a woman of strength, determination, and smarts… she'll do very well for herself, not just in tennis, but in all her life."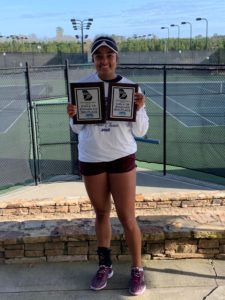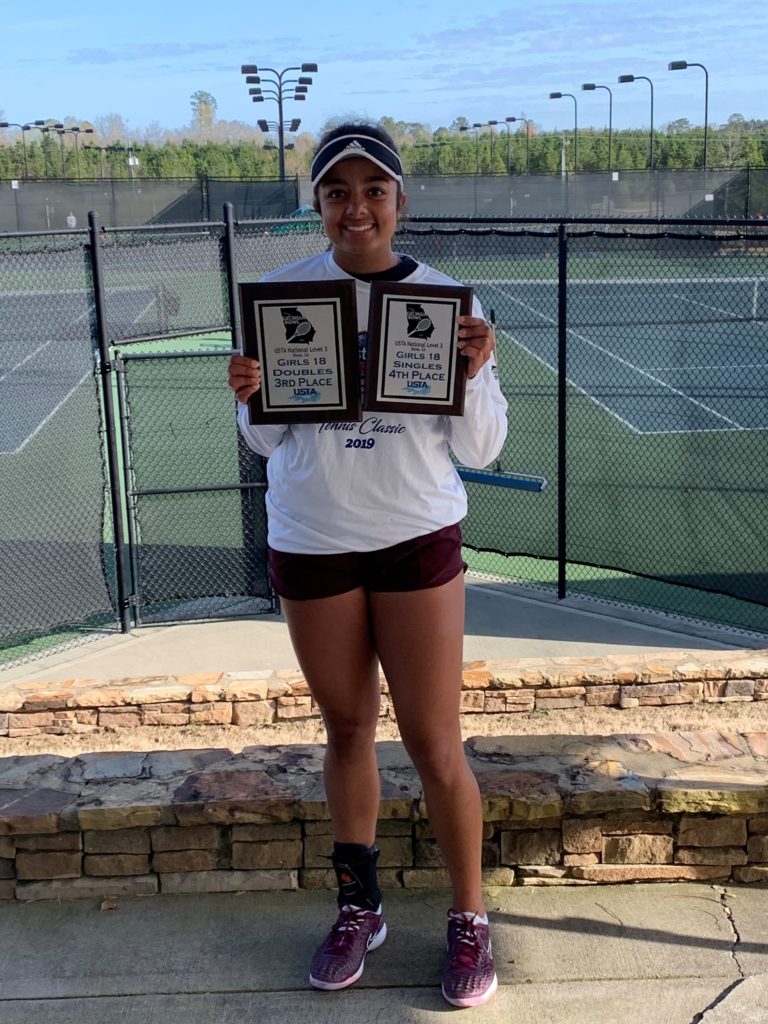 "Sanj is one of those players who brings tenacity and resilience whenever she steps on court," remarked Smith Stearns Head Coach, Julian Sullivan. "She's always ready to attack any match situation and bring her best. She's been an exciting player to coach and develop during her time at the Academy."
Where it All Began
Even before Sanjana arrived at Smith Stearns Tennis Academy, she'd racked up impressive accolades. The Chicago Post-Tribune named her the 2019 Girls Tennis Player of the Year. They described Sanjana with, "Relentless ambition. Elite desire to accomplish her goals. Impeccable work ethic. Unlimited skill level. Strong family support system."
Sanjana began playing tennis at age of four in her hometown outside the Chicago, Illinois area in Munster, Indiana. Her older sister began in tennis first (Sanj is one of four girls) and then Sanj followed. Sanjana learned tennis at Match Point Tennis and Fitness Club in Griffith, IN, and then transferred over to Score Tennis and Fitness in Countryside, IL where she trained from age nine to sixteen.
Although tennis isn't a family tradition, her parents have enthusiastically supported Sanjana every step of the way. Sanjana stated, "I'm so thankful for my parents and my sisters for always believing in me, supporting me, pushing me, and loving me beyond belief." She explained that they've been her pillars of strength and role models throughout her life. "I'm so grateful for all that my parents have provided. They've worked so hard, always inspiring me. They've given me the courage to overcome any adversity in life."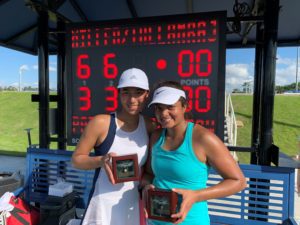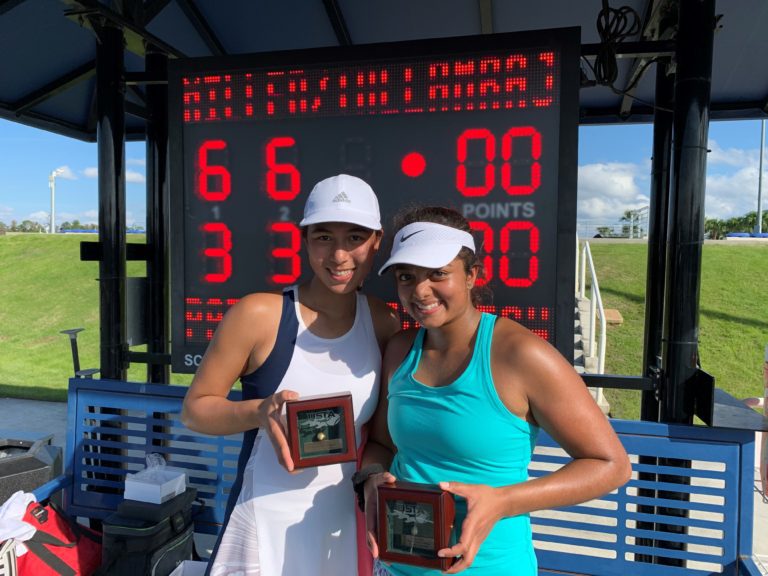 Life at Smith Stearns
Sanjana began visiting Smith Stearns at age 15 and then enrolled full-time during her junior year. She said, "One of the reasons I was attracted were the people and the team-like atmosphere." She was drawn to how students at the Academy would drive each other forward. Sanjana continued, "The training is one of the best parts about Smith Stearns. The intensity, and most of all the passion that the coaches demonstrate every day motivates us to push each other day in and day out."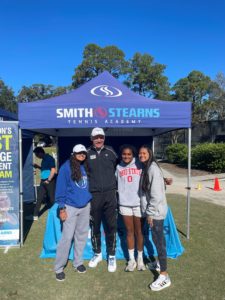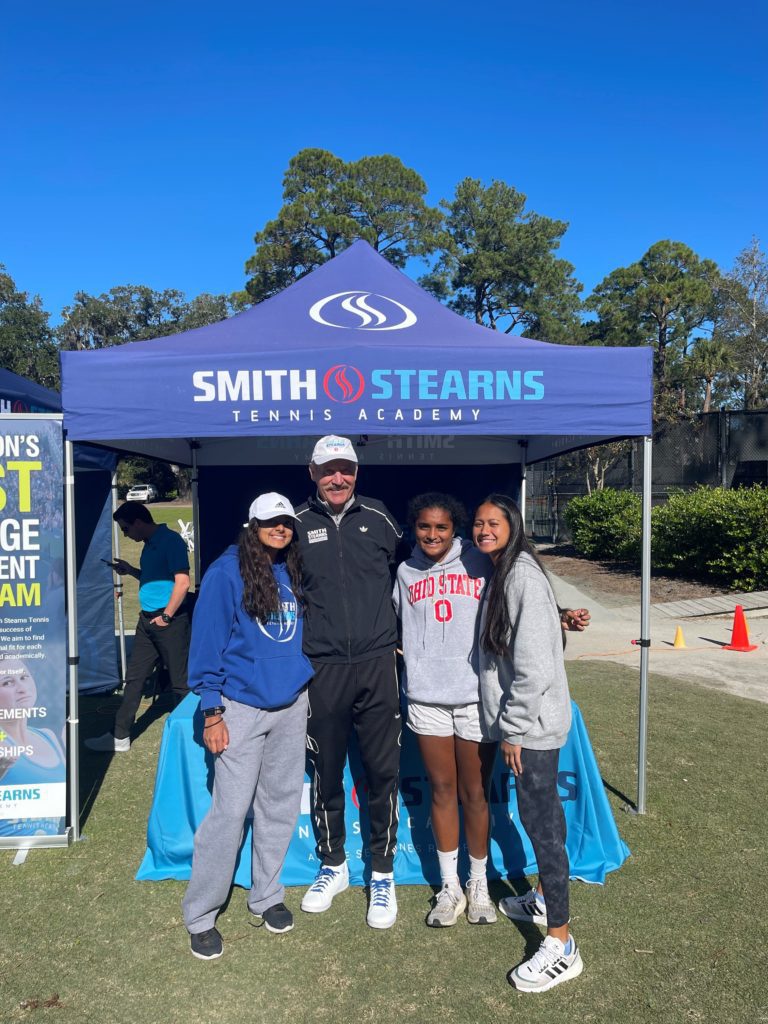 The Smith Stearns housing program is also one of Sanjana's favorite aspects of the Academy. She said she's formed great relationships with her housing peers and has created wonderful memories that she'll cherish for a lifetime. She's also very thankful for her houseparent, Eileen Gilchrist. "She's been my rock throughout my time here. She's been a second mom and has always advised me, pushed me, disciplined me, and most of all loved me."
When asked what are some of the most important life skills she's gained while at Academy, Sanjana replied that time management, discipline, and learning how to work with others have been incredibly valuable life lessons. In order to handle the intense practice schedule and heavy school load, she's learned to manage her time efficiently. In addition, she stated, "Living with eight to nine different girls is not easy, as there are many varying personalities. However, I've learned to adapt and live harmoniously with each type of person."
Tennis Approach and Highlights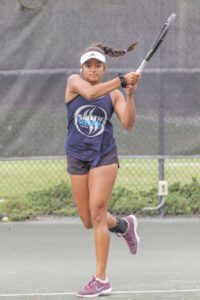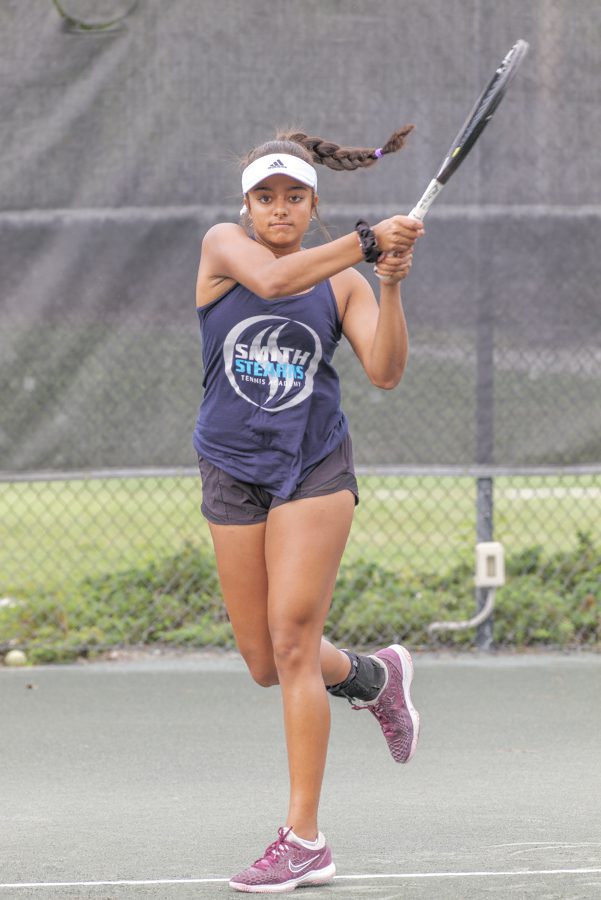 Sanjana is known as an aggressive player, ferociously approaching every point. While here, she's developed her forehand as a weapon, as well as mastered her footwork. "My footwork helps me maintain an aggressive stance in any match." Additionally, she said, "I've also learned how to use my net game more effectively."
Sanjana credits every single one of the Smith Stearns coaches as instrumental in in her tennis journey. "They've all instilled more discipline and strategy into my game." In addition, she's grateful for their encouragement during the good days and the bad ones. "Coach Julian has especially helped me develop my game as well as support me through all of my successes," she said. One of her best memories at Smith Stearns was traveling to the Easter Bowl with Coach Julian.
Sanjana's track record speaks for itself. She described a highlight of her tennis career was winning nine straight national doubles titles and then winning the gold ball in 2017 at the Girls 14 and Under National Indoor Championship. She also won a Silver Ball for the G14 Hard-Court National Championship and a Silver Ball at the G14 National Indoor Championships in 2018. In 2019, she won the G16 Bronze Ball at the Winter Nationals.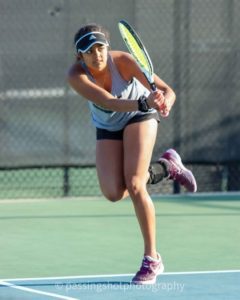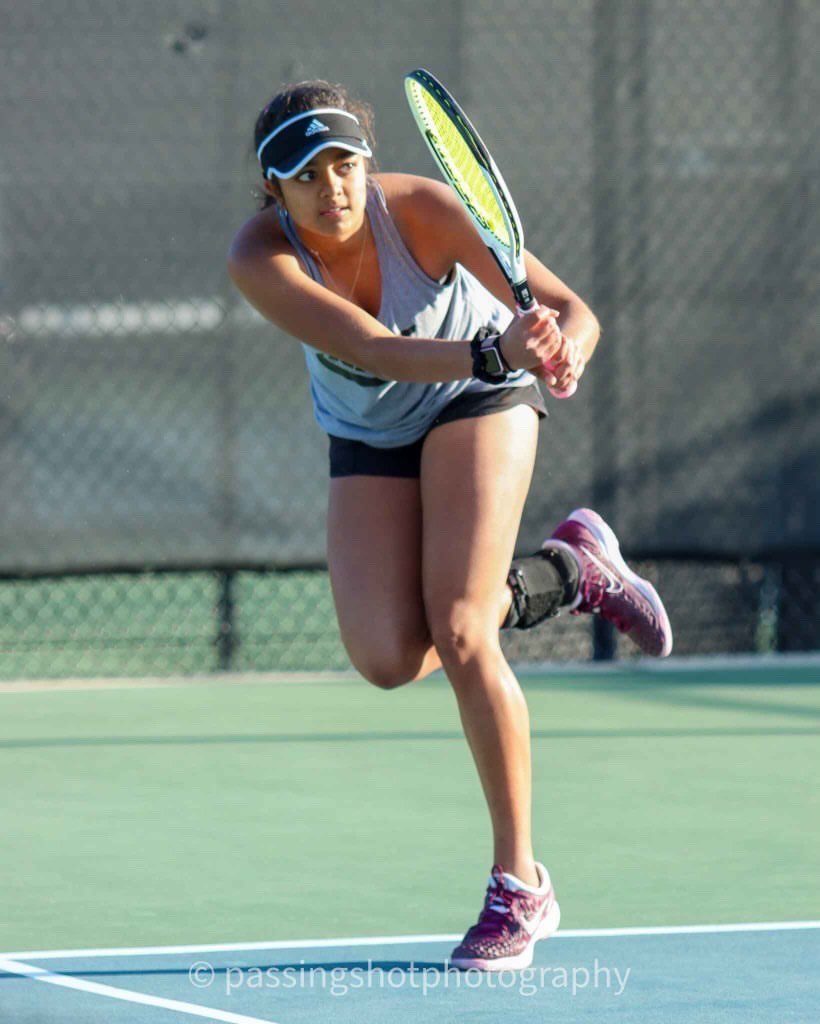 Excited to be a Rocket
Sanjana is looking forward to graduating and moving to Ohio to become a University of Toledo Rocket. Her sister, Shalini, also plays at UT, which is an extra special reason to join the team. "I chose the University of Toledo mostly because of the way the team is a family. My sister plays there and watching her bond, compete, and enjoy her experience made me want to join." Sanjana was also impressed with UT Coach Mauntler, who she felt was the perfect fit. "I'm most excited about the team atmosphere characteristic of collegiate tennis. The intensity, passion, and unity this team demonstrates excites me to become a Rocket."
More About Sanjana
Best Advice to Younger Students – "Always know your priorities. In order to brighten your future, always keep your priorities straight. This will lead to a happy and successful future."
Gratitude for Her Coaches and Administration – "I would like to thank everyone at Smith Stearns who has helped me along in my tennis journey. Thank you to Joanie and Kelley Stearns who do an amazing job of keeping this academy up and running. Thank you to BJ Stearns for always keeping a smile on my face and being a mentor to whom I will always look up. Thank you to Patrick Fediuk for always being a person I can talk to and for cheering up, motivating, and pushing me past my limits. Thank you to Eric Turner for coaching me and advising me on and off the court. A special thanks to Julian Sullivan for guiding me, supporting me, and coaching me for the past two years."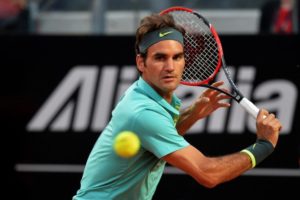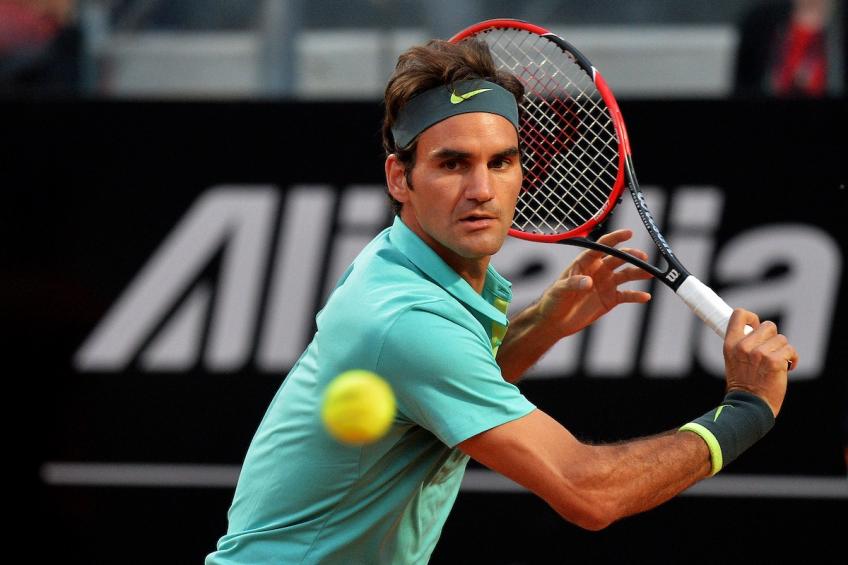 Favorite Pro Tennis Player  –Roger Federer – "He is not only one of the most talented players of all time, but also he's one of the humblest. His composure on court as well as his desire to win is inspirational."
Favorite Superhero – Wonder Woman – "She shows everyone that she can be powerful, just like the men."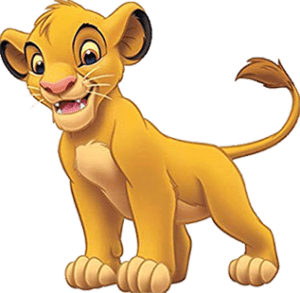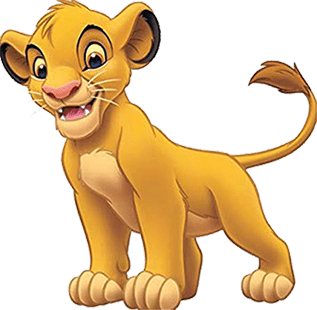 Favorite Disney Character –Simba from the Lion King – "He had unbelievable strength and love for his family and friends."
Favorite Animal – The Lion – "I would like to think that I am strong and have courage to face obstacles in my life."
###
« Back to Academy News