Senior Spotlight – Ella Faessler
"Ella is a great competitor and full of talent.. she is going to thrive in the college atmosphere and I truly believe she is going to do great in college tennis." – B.J. Stearns, Academy Director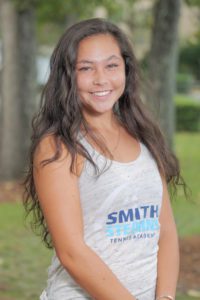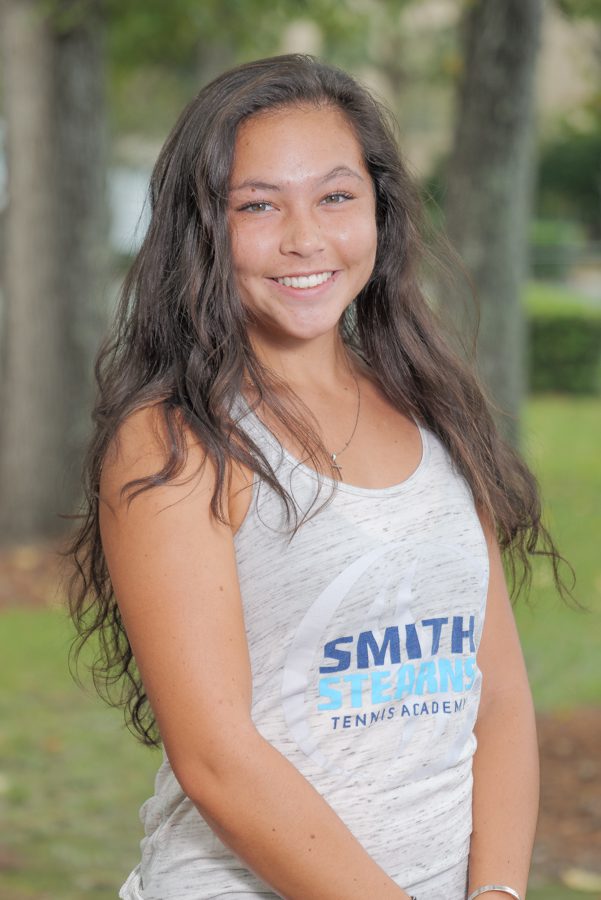 Name: Ella Faessler
Age: 17
Birthday: February 18
Hometown: Hilton Head Island, SC
High School: Hilton Head Preparatory School
College Commitment: College of Charleston
College  Mascot: Cougars
Collegiate Conference: Colonial Athletic Association
Sprinting from side-to-side on court, she was exhausted but exhilarated. She had found what she was looking for. She'd found a tennis academy that would push her beyond herself in ways she hadn't known before. She was hooked!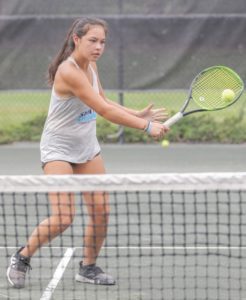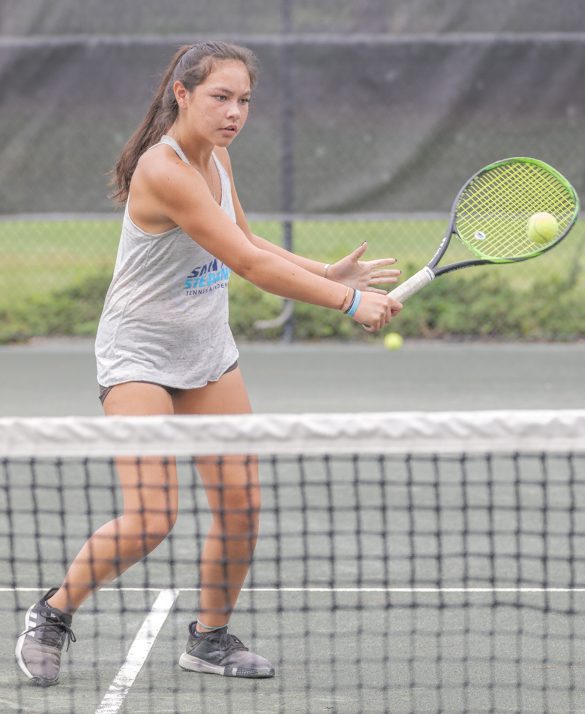 For many, such rigorous exercise would be daunting. But not for Ella Faessler. Ella, a Senior at Smith Stearns Tennis Academy, set to graduate in 2022, believed this type of rigor and discipline was perfect. And the coach who administered the drill? It was Jolene Watanabe, Ella's future coach and mentor who, in her own words, "taught me so much in tennis but also in life."
From Ohio to Hilton Head
Raised in Ohio, Ella began playing tennis at age 5, and immediately fell in love with the sport. She began dedicating large amounts of time to tennis and when on trips to Hilton Head, began visiting Smith Stearns. Ultimately, after her club in Ohio lost many of its best players, and her normal commutes for good tennis play became taxing, Ella set her sights on the Academy as a place to enroll full-time. On her next summer visit to the Island, she stayed overnight for the week in Smith Stearns housing and fell in love with the Academy, and with Jolene as a potential coach.
Academy Experience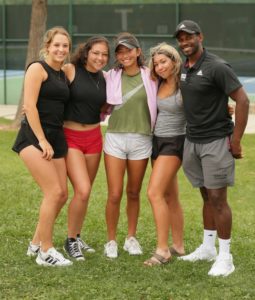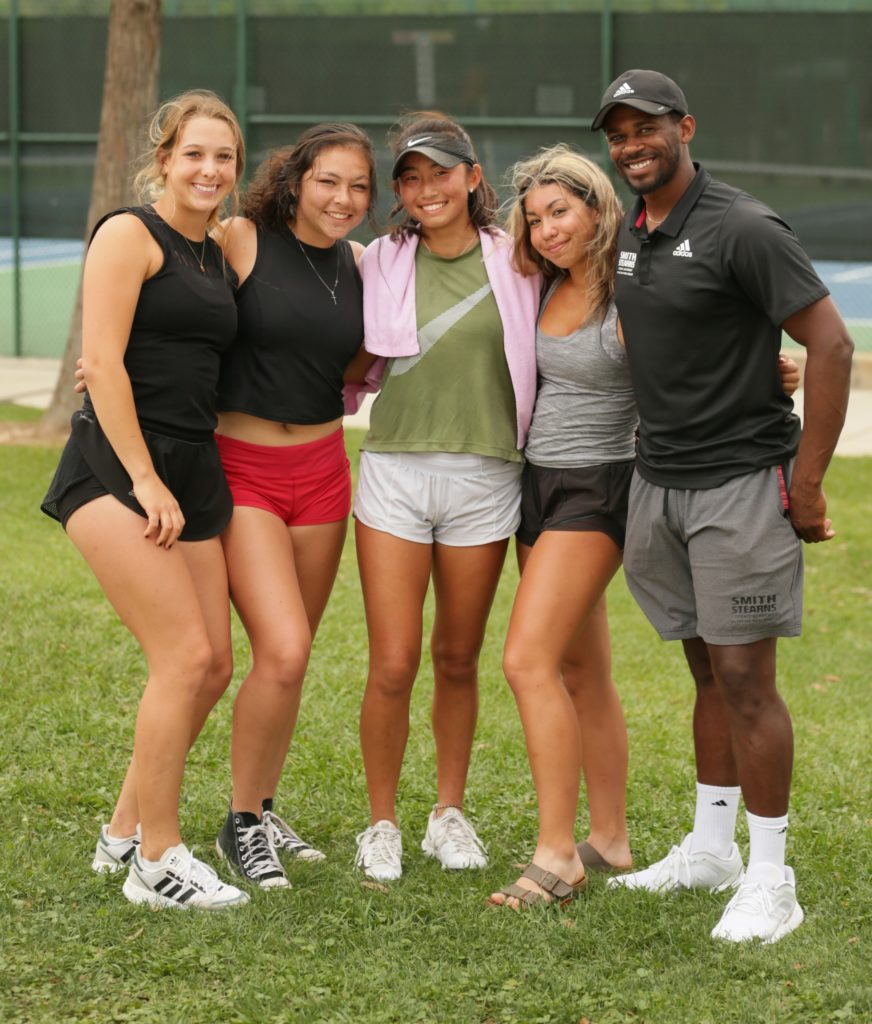 Speaking of coaching, one of the things that Ella believes is special about the Academy is how each coach has impacted her in their own special way. In tennis, Ella's coaches have given her the ability to capitalize on her strengths and minimize her weaknesses. She's learned how to take advantage of her forehand, her best weapon, but also to improve her footwork and fitness. In addition, she's learned how to refine her on-court decision making and to become more accountable.
"I've learned so much at the academy," said Ella, "but one of the most important lessons has been to always push through challenges." She remarked that even on the days you don't feel great, you must push through to improve as a player and as a person. She said that although outside factors such as school or other life problems may press in on you, that when it comes down to it, you have to push those distractions aside for the hours you're on court.
When asked what advice she would give to other students following behind her, Ella recommended not to get caught up in the minutia, such as checking your ranking, or your UTR, or getting sidetracked by peer drama. Instead, she advised to channel the determination to excel that's pervasive at the Academy, turning it into a catalyst to improve yourself. "In other words," said Ella, "don't get discouraged  if someone is beating you a particular day. Your game is going to fluctuate, which is ok. Instead, keep showing up and show your opponents what you're capable of at the tournaments." Ella also encouraged to, "give it all you've got," at practice and to stay focused on yourself and your own actions.
Coach Jo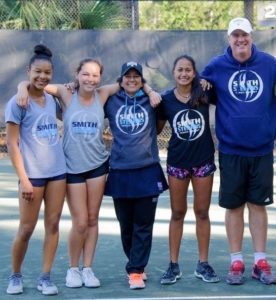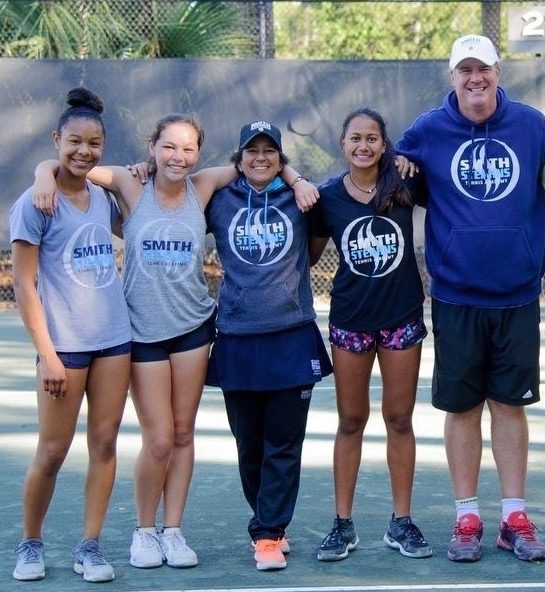 Ella began her journey at Smith Stearns training primarily with Coach Jolene, or "Jo." Coach Jolene was herself a top-100 ranked professional tournament player, competing in all the majors before becoming a coach. From the get-go, Coach Jo helped Ella raise her UTR by two points and achieve some of her best tournament wins. Working with Jo showed Ella how incredible of a coach she was and what a tremendous impact she was having on Ella's game.  Ella said that Jo created the perfect balance of caring for her while nonetheless pushing her past her limits.
Tragically, however, when Ella was 14, Jolene passed away from cancer of the appendix. "I was full devastated," said Ella. "I felt lost without her."  Yet, little by little, explained Ella, with the patient help of Eric and Julian, her other Smith Stearns coaches, she was able to regain her footing. Through their consistent encouragement to keep working and to stick with it, she was able to recapture her strength and motivation, pushing past the emotional pain and rising above adversity.
Journey Forward to Charleston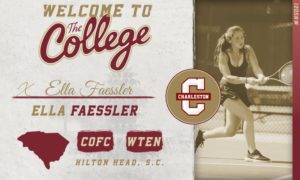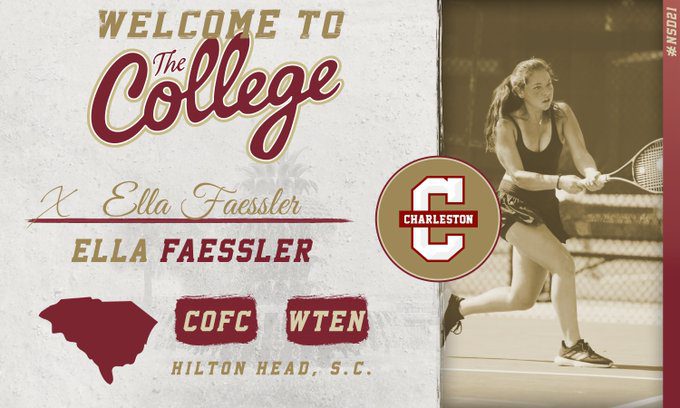 Despite the ups and downs at the Academy, Ella has worked hard and successfully earned a position on the College of Charleston's women's team where she'll enroll in Fall 2022. Excited to matriculate, Ella chose College of Charleston (CofC) because of its proximity to Hilton Head, so that friends, family, and coaches could come watch her play, yet just far enough away to gain some independence. She's looking forward to the team atmosphere of collegiate tennis, and trusts she'll thrive both athletically and academically.
Senior Head Coach Eric Turner remarked, "Ella is a great competitor and plays with lots of passion. She'll love the team aspect of college tennis. She's had a great junior career and I'm excited to see what the future holds for her at CofC." Ella really loved CofC's team and coaches when she visited and believes that she'll enjoy the supportive team environment where everyone works toward a common goal. Aimed for pre-med, Ella is also enthusiastic about the proximity of the Medical University of South Carolina (MUSC) with CofC.
Tennis Highlights and Fun Memories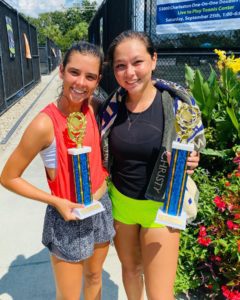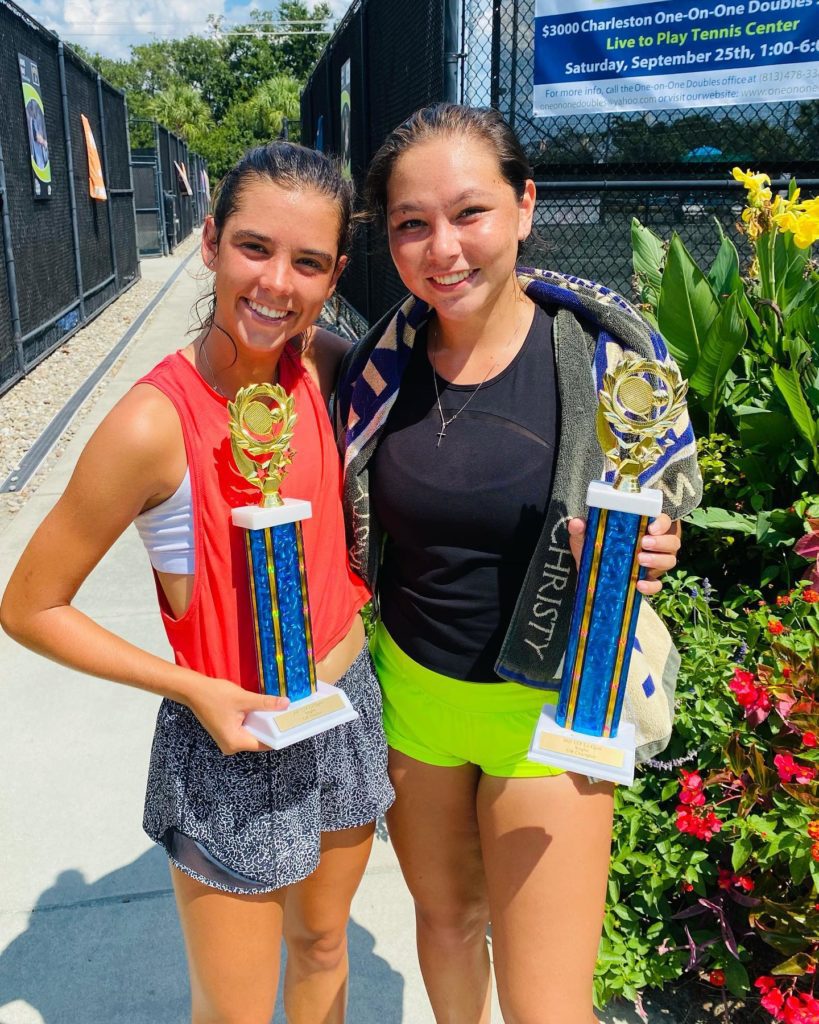 In terms of her tennis highlights, Ella is a 4-Star recruit, ranked 6th in South Carolina and is a top contender in the southeast. A favorite tournament victory came in 2018 when she won the G14 doubles at Southerns and made the singles final in the same year. In addition, she's triumphed over several collegiate players, including Elise Mills at USC.
In terms of fun memories, one of Ella's favorite aspects of the Academy has been travelling to tournaments. Ella stated that the long van rides, plus the stories and laughs shared after the day's matches promoted great camaraderie. "I remember sitting with the whole team in the Mobile Marriott lobby and stuffing our faces with food after a 14-hour day!" she said. "The fact that we sit down and eat at together instead of going up to our rooms shows a lot about the character of all the students at Smith Stearns and really emphasizes the family environment we all try to create."
Thankful for Her Tribe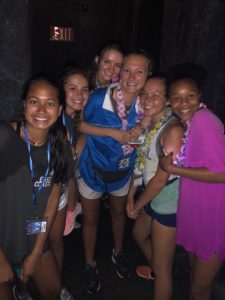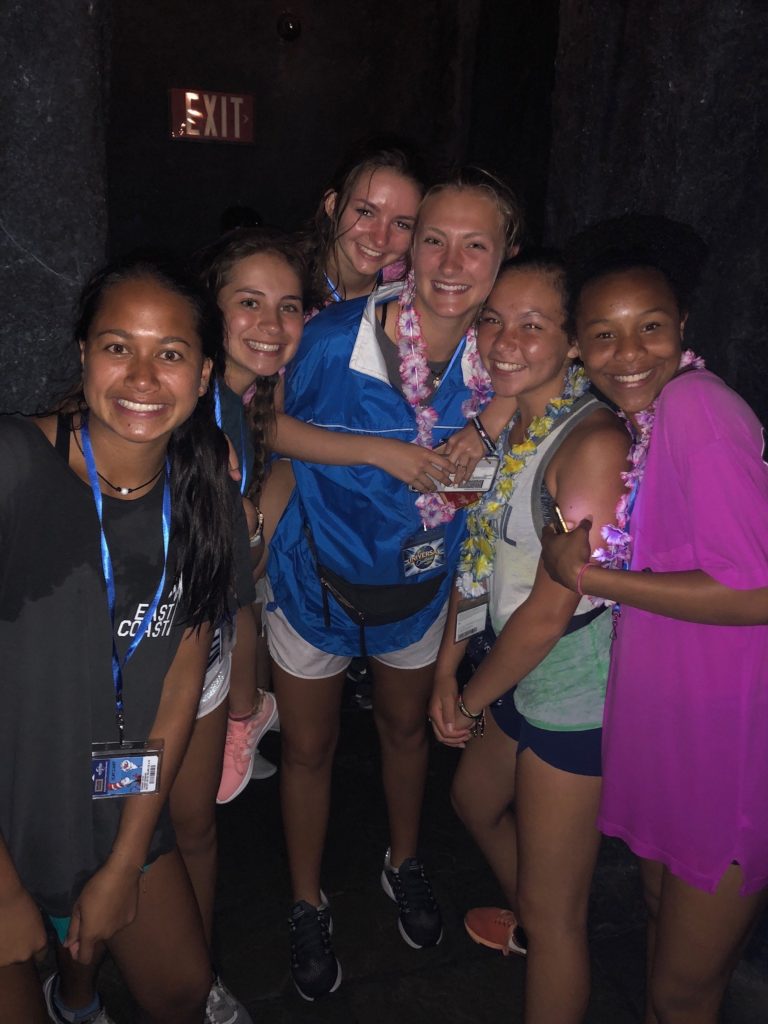 There are many people Ella credits for her tennis journey. First, in addition to her coaches from back in Ohio, she especially thanks her Smith Stearns coaches, Jolene, Eric, and Julian who've taught her so much and elevated her game, giving her the opportunity to play Division 1 tennis. She knows that all three of them watch out for her, whether it be on the court by her side or from Above. She's also grateful for Eileen who treated her like a daughter for the two years while in housing and with whom she's continued to have a good mentoring relationship. Last but not least, Ella gives her biggest thanks to her parents, who've provided the amazing opportunity to play tennis and who've shown her what it looks like to work for something and achieve it.
Ella's Fun Facts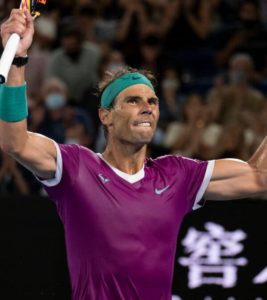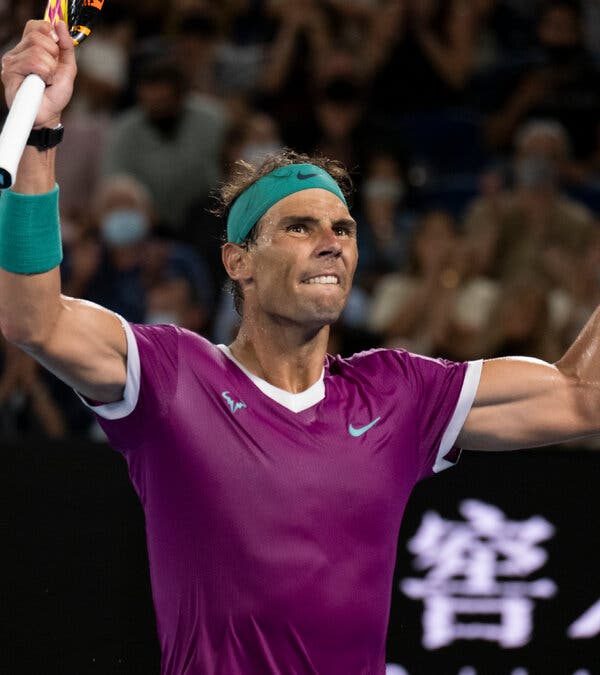 Favorite professional tennis player: Rafael Nadal – "I grew up watching him play and find him to be the most impressive male tour player (especially now with Grand Slam #21!!!). He never stops fighting."
Favorite superhero:  Iron Man – "He's just a human, but he uses his talents to improve himself and survive. He uses his genius and resources to make himself invincible."
Favorite Disney character:  Belle – "She doesn't judge a book by its cover. Like her, I try to care for people unconditionally, yet fight for what I believe in."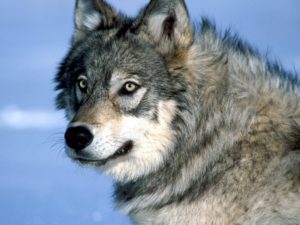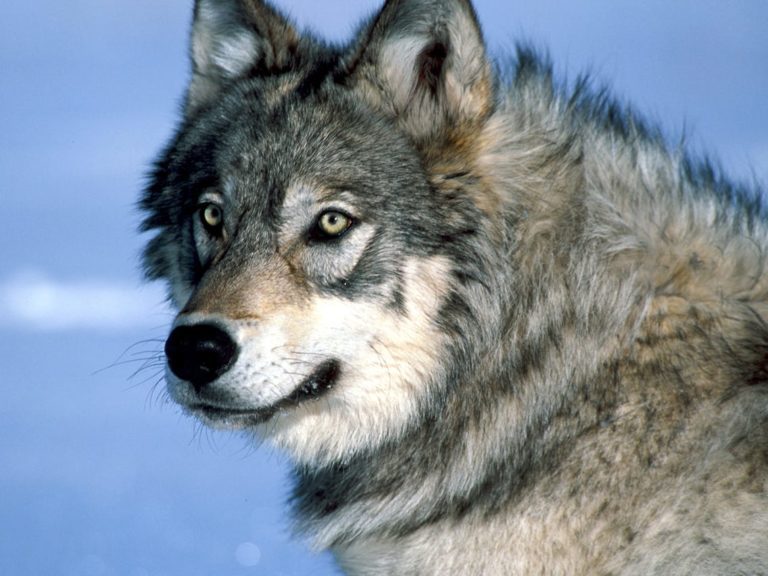 Favorite Animal: A wolf – "They're driven but patient and persevere in order to achieve their goal."
Most Admired:  Her Mom – "She's what I strive to be someday. She's the best mother I could ask for and has taught me how to love and care for people, but also taught me how to work hard and fight for the things I want to achieve. She finds ways to make so many things our lives work and has worked hard to be able to run her own dental practice. She's taught me that to succeed, you must work hard but also need the support of your loved ones, especially your family.
« Back to Academy News