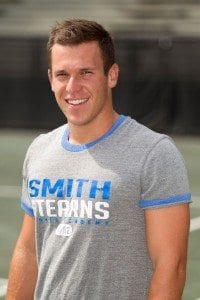 Adam Cablik
Hometown: Prague, Czech Republic
College Commitment: University of New York in Prague

After battling a serious elbow injury, Adam decided to get back out on the court and come to the academy for his senior year after his good friend Jiri suggested the academy to him. He moved from the Czech Republic this past August and immediately had success in all of his tournaments. Adam has continued to show a lot of pure talent and a desire to get his game better. All of the coaches have enjoyed working with him and right away he fit in as a member of the housing family.

Adam's favorite experiences at the academy have come from traveling with the team to tournaments as well as going with the group to Universal. He had a lot of fun being together with all of the other students.

Adam has had a lot of success on the court. He was a top rated national player in the Czech Republic in the boys 16's and since coming to the US, he has beaten a lot of highly ranked players. In addition to his tennis success, he also is a strong student.

After being offered scholarships to various U.S. colleges, Adam has decided that his elbow injury is getting worse and he will not be able to play collegiate tennis. He will be traveling home to the Czech Republic and will be attending the University of New York in Prague. He chose this school because he wants to continue to study at an English speaking school. It is unfortunate that Adam has developed this serious injury, especially because he has so much potential to be a great player, but we only wish him the best and hope that he will have success in other areas of his life!
« Back to Academy News