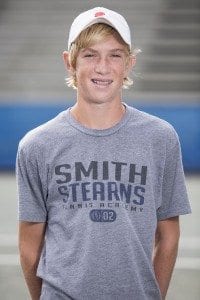 Smith Stearns students had more great results at the recent USTA Regional Segments that were held October 27-29 in various places across the country.

At the Norcross Regional Robert Loeb continued to dominate advancing to the finals of the boys 14 and under championship by beating 5th seeded Spencer Brown, 6-4,6-2. In the championship match he lost a hard fought battle to number one seeded Noah Makarome 7-5 in the third set. Loeb also placed 3rd in the doubles event with fellow Smith Stearns student Sean Sculley.

In the boys 18 and under division, Andrew Schafer placed third, Hampton Drake fourth, and both Juan Sheppard and Harrison O'Keefe made it to the finals of the consolation bracket.

Kennedy Shaffer placed 4th in the girls 16 and under event and also won the tournaments overall Sportsmanship Award.

At the Hawaii Regional, Matthew Bishop placed 3rd in the boys 18 and under division.

Congratulations to all!

« Back to Academy News