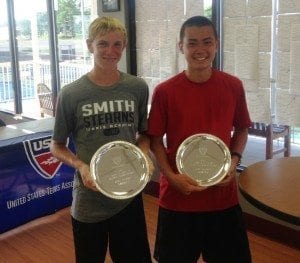 Cameron Kriscunas and Robert Loeb both placed second in doubles at the 16 and under Southern Closed Championship held June 15-21 in Rome, Georgia.

Partnering with McKenna Jones, Kriscunas won five straight matches including a third set tiebreaker win over the 2nd seeds to earn a place in the finals. In the final they lost a closely contested match to Amanda Rebol and Clare Raley, 7-5,6-4. Kriscunas and Jones had also partnered together in May to capture the Palmetto Championships which is the State Championships for South Carolina.

As the fifth seeded duo, Robert Loeb and Alex Phillips beat two top 16 seeds and then the #2 seed to reach the final. In the finals they lost a close match to Blaine Boyden and Grey Hamilton, 7-5, 6-4. Loeb and Phillips partner together frequently. In March they won the Bullfrog Designated in Norcross.

Congratulations to both Cameron and Robert for having an excellent Southern Closed!

« Back to Academy News