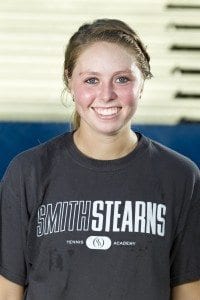 Mariana Gould has been having quite the month. After struggling with the aftermath of heat exhaustion in which she had to default the main draw of a pro circuit event earlier in the month, Gould came back strong and has won her last two tournaments.

Originally from Boise, Idaho, Gould travelled back to the Intermountain Section to play the ITA Summer Sectional held in Salt Lake City, Utah, from June 9th-14th. She dominated the tournament losing only seven games on her way to the girls 18 and under final where she defeated Rebecca Weismann 6-4,6-4 to claim the championship.

Just this past weekend, Gould won her second title of the month at the ITF Grade 4 Junkanoo Bowl, which was held June 25th-30th in the Bahamas.  She defeated players from Bermuda, USA, Canada, and France to make her first final in an ITF. In the championship match Gould defeated Valeria Salazar from Mexico 7-5,6-4 to earn her first ITF title.

Congrats to Mariana for all of her success!
« Back to Academy News