Founded in 2002, by a vision that Stan Smith & Billy Stearns had to create a high level junior tennis academy that focused on individual junior player development, the Smith Stearns Tennis Academy has evolved over the years into the successful academy that it is today. The year 2012, marks the 10 year anniversary of the academy and everyone involved is extremely proud of the accomplishments of all our students and dedicated coaches who have put in countless hours of pure dedication and effort in order to ultimately achieve their goals and dreams.


Since 2002, the academy has produced over 250 State, Sectional, and National Champions as well as having placed over 75 students into some of the best colleges across the country. Our college placement program continues to thrive as our students have earned over $5 million in college scholarships as well as going on to having successful college tennis careers earning various honors in both athletics and academics.
Beyond the statistics, the academy has seen hundreds of students develop into mature and successful adults across all professions.
This past year has also been special because it marked the graduation of one of our most decorated college placement classes. The entire class of 2011 is as follows:
Molly O'Koniewski – University of Virginia
Kaitlin Ray – The University of California, Los Angeles
Austin Powell – North Carolina State University
Leyla Erkan – Florida State University
Elkie van den Beemt – St. Lawrence University
Billy Bumgardner – University of Nevada
Peter Surovic – University of Connecticut
Lindsey Burke – Washington & Lee University
Aaron Cotton – The University of the South – Sewanee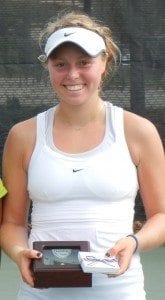 In addition to college placement success, our students have won important tournaments and awards this year. To highlight those accomplishments, Kaitlin Ray won a silver ball by placing 2nd in doubles I the girls 18's at the USTA National Spring Championships.
Mariana Gould won two USTA balls this summer, earning a bronze ball in singles at the National Clay Courts and a gold ball by winning the doubles championship at the National Hard Courts, both in the girls 16 and under division.
Hayley Carter continued to impress by earning herself a spot in the US Open Juniors Championships where she beat the #7 seed in the first round.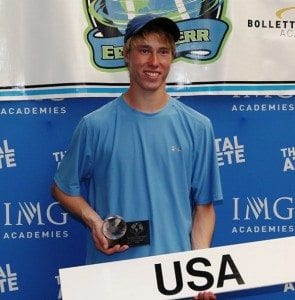 Andrew Schafer won eight matches in a row, to advance to the finals of the Eddie Herr International Championships this past December.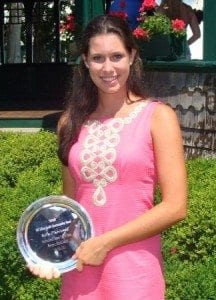 Molly O'Koniewski won the prestigious USTA Bill Talbert National Sportsmanship Award given annually to only four juniors across the country. This marked the 13th sportsmanship award Molly earned throughout her career.
These results only highlight a year in which all of our students achieved great success both on and off the court.
We would like to thank everyone in the Smith Stearns Family, from all of our dedicated staff, to our students, parents, sponsors, and anyone who played a role in helping us become the academy that we are today. We could not be more proud of what our students have accomplished and are looking forward to an even better 2012!
Sincerely,
Stan, Billy, & B.J.
« Back to Academy News