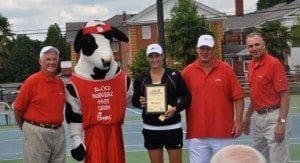 Hayley Carter led the way this past week at the Palmetto Championships (SC State Closed) that was held June 2-7, 2012, in Belton, South Carolina capturing her 13th and 14th titles respectively. With those wins she goes down in history as one of the best players to play South Carolina tennis, winning the most SC State Championships by breaking the previous record of 13. She won the girls 18 and under singles championship by defeating Ansley Speaks, 6-2,6-1. For the doubles championship, Carter partnered with fellow academy student Ashley Kitchen to defeat Narcissa Summerall and Tolley Rice, 6-0, 6-1 and win their 4th Belton title together.


Carter was not alone in her dominance as other academy students won a total of 7 Palmetto Championships while also having a significant number of top 8 finishes.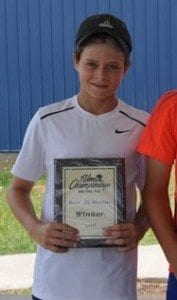 Conrad Alford
placed 4th in both singles and doubles in the boys 10 and under championship.
Jack Kelly
won the boys 12 and under doubles title while placing 4th in the singles championship.
Cameron Kriscunas
and
Shannon O'Brien
won the girls 14 and under doubles title. Kriscunas was a finalist in the singles championship losing a hard fought match that ended in a third set tiebreaker.
Liz Williams
placed 7th in singles, while O'Brien placed 8th.
Robert Loeb
was a finalist in both singles and doubles in the boys 14 and under division.
Hampton Drake
won the boys 16 and under singles title and
Carsten Fisher
won the doubles title.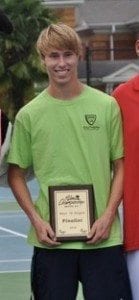 Natalie Kitchen
won the girls 16 and under doubles title by defeating fellow academy students
Allie Burak
and
Sydnee Wheeler
in the finals. Burak placed 3rd in singles followed by a 6th place finish by Natalie Kitchen and a 7th place finish by
Kate Christensen.
Andrew Schafer
was a finalist in the boys 18 and under championship losing a hard fought match to Christopher Cox who plays on the University of South Carolina team.
Christian Harris
made it to the semifinals of the doubles championship.
Congratulations to all of our Smith Stearns students who competed this week at the Palmetto Championships!
Smith Stearns Participants
Conrad Alford – B10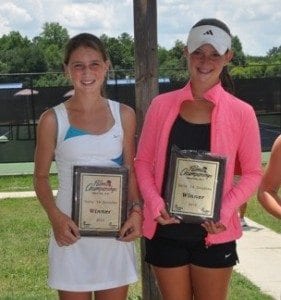 Mary Grace Armistead – G12
Jack Armistead – B12
Audrey Bennett – G16
Allie Burak – G16
Colby Burke – B18
Hayley Carter – G18
Elle Christensen – G12
Kate Christensen – G16
Diana Colen – G18
Madison Daniel – G12
McKenzie Daniel – G12
Charlie Drake – B18
Hampton Drake – B16
Carsten Fisher – B16
Christian Harris – B18
Jack Kelly – B12
Natalie Kitchen – G16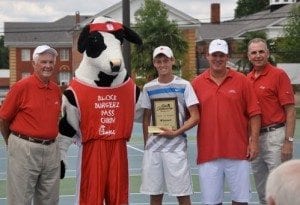 Cameron Kriscunas – G14
Robert Loeb – B14
Sara McClure – G12
Mary Hampton McNeal – G16
Morgan McNeal – G18
Catie Meighan – G14
Shannon O'Brien – G14
Katie Rankin – G14
Andrew Schafer – B18
Sam Smith – B16
Sydnee Wheeler – G16
Liz Williams – G14
Perry Williams – B18


« Back to Academy News