Students of Smith-Stearns Tennis Academy brought home five top-3 finishes including
three championships at the 2016 USTA Winter Nationals held in Arizona.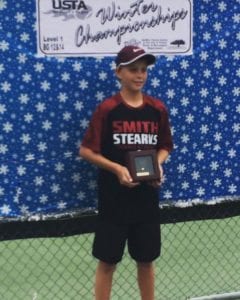 When measuring success in the ranks of elite American junior tennis, the hallmark is the coveted Gold Ball a small but important trophy afforded the champions at USTA Super National events. Every year after Christmas and going into the New Year the top American juniors converge in Arizona for the USTA Winter Nationals. The final day of this year's tournament, January 2nd, saw students at Smith Stearns Tennis Academy located in The Sea Pines Resort on Hilton Head Island take home three Gold Balls as well as a Silver Ball and a Bronze Ball.
12-year old Hilton Head resident Jack Armistead managed to fight through the field of 128 players and the expectations of being the top seed to take home the Gold Ball in the Boys 12& under singles event. Along the way Jack took out three of the top seven seeds and managed to fend off a match point in the finals before prevailing 4-6, 6-2, 7-6 (5) over Learner Tien of California.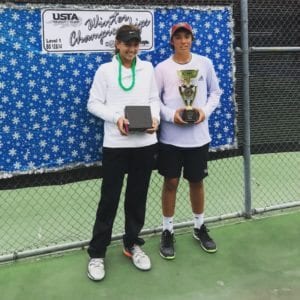 JJ Tracy, also a resident of Hilton Head, paired with Billy Suarez of New York to earn the Gold Ball in the Boys 14& under doubles championships. The tandem dropped just one set in their six matches which included a 6-3, 6-4 win in the finals over the third seeded team. Shortly after Tracy secured his first Gold Ball, he found himself playing for a bronze ball in the 3rd place match featuring the two losing semi-finalists. Unfortunately, the eleventh seeded Tracy came up short in a close match losing 7-5, 6-7 (2), 6-1 to Aryan Chaudhary of California.
Briana Crowley paired with Riley Tran of Virginia to take home the Gold Ball in the Girls 16& under doubles championship. Crowley who won a Silver Ball in the USTA National Doubles Championships this past August in Winston Salem was able to do one better in Arizona capturing her first career Gold Ball. The finals saw Crowley and Tran dominate the top seeded pair of Kourkina and Sorokko 6-1, 6-1.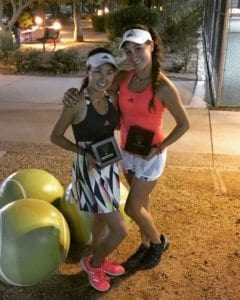 Savannah resident, Collins, may have come up short of a Gold Ball but was able to secure a Bronze Ball in the Girls 14& under singles as well as the Silver Ball in the doubles. After losing a tough doubles final 6-3, 6-7 (8), 6-3 Kylie quickly rebounded to take the court in the playoff for the Bronze Ball. The 14-year old responded well winning a hard fought three set match 6-2, 4-6, 6-2 to take the Bronze Ball. This was the fourth "Ball" of the year for Collins who also won a Gold Ball in Girls 14's at the USTA National Doubles Championships in August as well as a Bronze Ball in the Girl's 14& under doubles at USTA National Championships this past summer.
This success at Winter Nationals was a great capstone to a year which saw Smith Stearns students take home four Gold Balls, three Silver Balls, and two Bronze Balls.

Smith Stearns Tennis Academy
P.O. Box 7833 Hilton Head Island, SC 29938
Phone: (843) 363-4789
Email: info@smithstearns.com Website: www.SmithStearns.com
« Back to Academy News