The Smith Stearns Family
Led by Stan Smith, former number-one player in the world and former USTA Director of Coaching, Billy Stearns, one of the world's top coaches, and B.J. Stearns, former top nationally and internationally ranked player and Academy Director, the Smith Stearns Tennis Academy is uniquely designed for individual junior player development.
Under Stan and Billy's leadership, a staff of highly qualified coaches specifically trained in the Smith Stearns approach work one-on-one with committed young people to help them reach their full potential as players.
Meet our high performance coaching team.
Stan Smith
A former #1 world and U.S. player, Stan Smith won the U.S. Open in 1971 and Wimbledon in 1972. He represented the U.S. in the Davis Cup for 10 years, winning the coveted championship seven times. All told, he has won 39 singles titles and 61 doubles titles, most recently the 55-and-over title at the 2004 U.S. Open. Stan was Director of Coaching for the USTA Player Development Program, working with Lindsay Davenport, Jennifer Capriati, Todd Martin, Chandra Rubin, Mal Washington and Chris Woodruff, among others. He was coach of the 2000 U.S. Olympic Men's Tennis team in Sydney, Australia. He is known for his ability to communicate clearly on how to improve technique, strategy, tactics and mental approach to the game – as well as for his legacy of sportsmanship and courtesy.
Billy Stearns
World-class coach Billy Stearns has worked with 24 All-American collegiate athletes, three NCAA doubles champions, and 111 State, National and ITF Junior titleholders. He has led six players to become Top 10 in the ATP and WTA tours, two of whom became Wimbledon Champions. Throughout his 25-year coaching career, he has set a pattern of motivating players to achieve their highest potential. Billy is known for his rare ability to quickly recognize a player's strengths and weaknesses, and to analyze strokes and rebuild them until they are technically sound. His one-on-one attention focuses on proper shot selection, technically correct stroke production, balance, match play strategy, transitional game, confidence and anticipating the ball. Billy helps players exceed their perceived limits to reach their true maximum potential.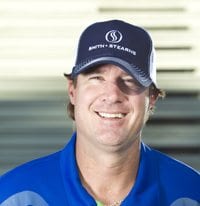 B.J. Stearns – Academy Director
The winner of 18 National Championships, B.J. Stearns attended the University of Texas, where he played #1 singles and doubles and was team captain. As a junior, he was a member of the U.S. National Team, won the Kalamazoo Doubles twice in the 16s, was Orange Bowl winner in the 12-and-under category, and won various other international titles in addition to his 18 gold balls. He has wins against accomplished players such as Paul Goldstein, Justin Gimelstob, Marcelo Rios, Gustavo Kuerten, Magnus Norman and Mark Philippoussis. In addition to his own career, B.J. has had a very successful transition into coaching as he has trained various state, sectional, national, and international champions, while also directing the academy on a daily basis. B.J. believes his students can achieve high levels of play while having fun. He believes that good tennis players need to be technically sound and also have a complete understanding of the strategy of the game.
Edgar Giffenig – Director of Instruction
Edgar Giffenig was a highly ranked junior in Mexico and played for the University of Texas where he completed an undergraduate degree in business and a graduate degree in exercise physiology. Edgar started his coaching career as an assistant coach for the University of Texas, and has been coaching high performance players for the last 25 years.  He was a national coach for the USA, Germany and Mexico as well as a partner in two major academies: International Tennis Academy in Florida and Centro Mextenis in Mexico. Edgar has been a speaker at many national and international coaches conventions, is the author of "Developing High Performance Tennis Players," (www.edgargiffenig.com) and is a partner and international consultant for TennisGate (www.tennisgate.com) – an educational website for coaches, players and parents.
Jolene Watanabe – Head Academy Coach
An 11 year WTA Tour veteran, Jolene Watanabe earned a career high singles ranking of #70, with accomplished wins over Jennifer Capriati, Brenda Schultz McCarthy, Iva Majoli, Amy Frazier and Chanda Rubin. She has played in 20 main draw grand slam tournaments, won 12 total ITF titles and 11 USTA National titles. Jolene was also the first female coach of World Team Tennis, when she coached the New York Buzz from 2003-2007. She is certified as a high performance coach by the United States Tennis Association.
Derrick Spice – Academy Coach
Derrick was consistently ranked in the top thirty nationally as a junior, competing with players such as Andy Roddick, Marty Fish, Bobby Reynolds, Rajeev Ram, Robby Ginepri, and John Isner.  He won two Ohio State High School singles titles and was recently inducted into Midview High Schools Hall of Fame.  He went on to play college tennis at Wake Forest University where he set a record for most wins in a season, was Atlantic Coast Conference Rookie of the year and voted ALL ACC three years.  Derrick also consistently served over 120mph.  His top ranking was 17 nationally. He had 9 wins over top 30 players and led his team to four NCAA appearances, playing number 1 singles and doubles.  Derrick has been teaching top ranked juniors for seven years in Ohio and is USPTA certified.
Eric Turner – Academy Coach
Eric originally came to Smith Stearns as a young player where he lived and trained at the academy throughout his junior career. As a junior, Eric won two National Open Championship titles and reached the quarterfinals of the Super Nationals four times and the semi finals twice. He won a bronze ball in doubles at the Winter National Championships and also competed in the Orange Bowl. Eric then went on to play at NC State before transferring to Elon University where he played #2 singles and #1 doubles and earned First-Team All Conference honors. He led his team to a conference championship his junior year and as a senior he was voted the captain of the team. Eric has earned his USPTA certification and is excited about his new career as a coach. He is a fresh young talent with a lot of passion for teaching others.
Paul Koenke – Academy Coach
Paul comes to Smith Stearns from Denver, Colorado, where he earned number one rankings in both state and sectional (Intermountain) competition. In singles, he is a four-time USTA National Open champion and also finished as high as 5th in USTA Supernational events. Paul consistently reached the quarterfinal round at Supernationals in doubles, and won a silver ball at the USTA Winter Supernationals. He reached a career high ranking of #9 in the US in both the 16s and 18s. He continued his career at Clemson University, before transferring to Boise State, where he reached #42 in the country in doubles. After college, Paul played professional club tennis in New Zealand for Remuera Rackets Club and Northcote Tennis Club. Playing number one singles and doubles for both clubs, Paul helped Remuera and Northcote to 2nd place finishes in the 2010 Caro Bowl and the 2011 Chelsea Cup, and climbed to #5 in New Zealand's doubles rankings. Recently, Paul had been honing is coaching skills in Denver, working as a head tennis professional and full-time traveling coach.
Julian Sullivan – Academy Coach
Julian is originally from Philadelphia, PA. He was the number 1 ranked player in the Pennsylvania, New Jersey and Delaware region before going on to play for North Carolina State. There he played #3 singles and #1 doubles. He reached as high as thirty nationally in doubles and has had numerous wins over ranked opponents including the number one team in the nation. He is a 4-time doubles champion at the ATA National Championships. Before joining the Smith Stearns Tennis Academy he worked at the North Ridge Country Club in Raleigh, North Carolina. He has 7 years of coaching experience and enjoys working with all levels of junior players.
Philip Nemec – Academy Coach
A former, 3-time, Canadian National Junior Champion, Philip was a consistent top 5 national player in Canada throughout his junior career. He grew up training at the Evert Academy before attending Elon University. At Elon, Philip played primarily #1 doubles throughout and #1 singles in his last 2 years. He was a two time All-Conference First Team in singles and a 3 time First Team in doubles. He won the SoCon Championship in 2011 and finished with most doubles wins in Elon's history with 70. Philip reached a NCAA ranking of #20 in doubles and was the first Elon player/tandem to make the NCAA tournament in 2009.
Meet our Support Staff
Joanie Hyndman – Academy Administrator & Director of Admissions
Kelley Stearns – Academy Administrator & Director of Student Services
Kelley was consistently ranked in the top ten nationally as a junior player and travelled internationally with the USTA to various trips across the globe including participation in the World Youth Cup. Junior highlights include doubles titles at both the Easter Bowl and Eddie Herr and singles runner-up finishes at the Eddie Herr International and the National Clay Courts. Before college, Kelley played some professional tournaments for two years, earning a WTA ranking of #570 and winning the doubles title in a $25,000 pro circuit event. Kelley then attended the University of Georgia on a full scholarship and helped the Bulldogs to two SEC Conference Championships as a player and another as a volunteer coach while also achieving top five national rankings as a team. As a senior Kelley played both #1 singles and doubles for UGA and was named the MVP at the SEC Tournament. She then completed her Masters Degree in Sports Management in her last year at UGA.
Mike DeMaria – Exercise Physiologist & Strength Training Specialist – Owner of Athletes First – www.athletesfirsthhi.com
Mike DeMaria is a notable Exercise Physiologist, International Strength Coach & "trainer to the pros" residing in Hilton Head Island, SC. He is also a former athlete himself, proud "son of coach", and served in Operation Desert Storm in the USAF. His formal education is based in Exercise Physiology, Functional Movement and Sport Biomechanics. He maintains national certifications with the National Strength & Conditioning Association, American College of Sports Medicine, and the American Heart Association. For nearly 20 years, Mike has coached many world class athletes and worked with various sport legends such as Gary Gilchrist Golf & Adidas Tennis Icon & former #1 in the world… Stan Smith. Mike has travelled on tour to work with professional athletes and his training programs have made it into Time Magazine, Tennis Life, and Fitness Management. His professional background includes working for the Orlando Magic Organization, General Manager of Impact Athletics and Owner of BioNetics Sports & Rehab Centers. He has personally trained countless juniors & adults, division one athletes, national team members, 56 NCAA All-Americans, Numerous NBA All-Stars, MLB players, Top players of WTA/ ATP, & Top 10 PGA/LPGA & Tour Pros. He currently serves as a Performance Consultant to numerous NCAA universities, including the University of Virginia Mens Tennis Team (NCAA #2). Those teams alone featured two NCAA Singles Champions, two NCAA Doubles Champions, 20 All-Americans, 19 NCAA singles and nine NCAA doubles participants, 28 All-ACC selections, two ITA National Players of the Year, four ITA Regional Rookies of the Year, two ACC Freshmen of the Year, six ACC Tournament MVPs, and an ACC Player of the Year. Additionally, he serves as a national fitness advisor to the world organization, Tennis Industry Association. (www.tennisindustry.com). His services includes functional assessments, sports specific training, player progress reports, college placement, international consulting, fitness certifications, fitness manuals, and sport rehabilitation.
Simon Lavery – Director of Tennis Recruitment & Management
Eileen Gilchrist – Boy's House Parent